Irregular "heart rate variability" (HRV) has been shown to negatively affect all body functions resulting in disease. Heart math technology measures Heart Rate Variability (HRV). Patterns of Irregular HRV are called incoherent . Regular HRV patterns are called coherent .
HeartMath technology is an innovative approach to improving wellness and facilitating personal growth based on learning to change your heart rhythm pattern to create coherence - a scientifically measurable state characterized by increased order and harmonay in our psychological and physiological processes.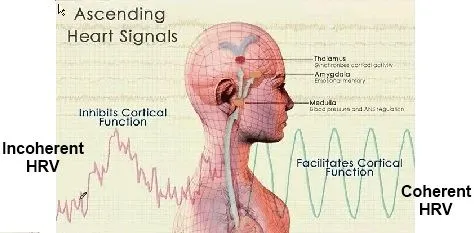 By placing the patented sensor on your finger or ear, and watching the display on the computer monitor, it will help you transform stress and anxiety into vibrant energy. Much more than a heart monitor, this revolutionary technology guides you on how to achieve higher, more creative energy levels, less stress, and optimal health.
Numerous HeartMath case studies help illustrate the effectiveness of heart intelligence at work. One study with Motorola showed tension, anxiety, nervousness and physical stress symptoms significantly decreased. In the study 25% of the participants had high blood pressure, but after only six months of using HeartMath techniques their blood pressure had normalized, and no conventional medical interventions were used.