Owner, Chiropractor, Functional Medicine

Class of 1994
Cum Laude

Class of 1985
Member of The American Spinal Decompression Association
Member of the Massachusetts Chiropractic Society
Member of Business Networking International (1996 - 2001)
Graduate of the Institute for Functional Medicine and studied with various international experts in the field of nutritional medicine. She has done post graduate work in these Functional Medicine areas::
Nutritional Management of the Underlying Causes of Chronic Disease
The Symposium on Chronic Illness
The Symposium on Chronic Fatigue Syndrome
Reversing the Rising Pandemic of Diabetes and Metabolic Syndrome
Nutritional Endocrinology
Mastering the Thyroid
New Approaches to Anti-Aging
Nutritional Approaches for Inflammatory Disorders
A Functional Medicine Approach to Cardiovascular Disease
Clinical Challenges in Women's Health
Blood Chemistry Analysis from a Functional Medicine perspective
Trained and Certified in multiple Energetic Medicine Immune System Assessments (for advanced allergy/stress relief) using these advanced computerized systems in the office:
NRG Laser - to assess and correct over 100,000 known stressors that can produce an allergic response
Nutri-Energetic System (NES) - immune, nutritional, and emotional body assessment and correction.
Trained in Laser Therapy of musculoskeletal and neurological disorders with 7 time Tour de France champion Lance Armstrong's physician.
---
Licensed Massage Therapist & Rossiter System Personal Coach
Call or e-mail
My Body
Works!
at 508 397-4184 and

see what we can do for you!

[email protected]

http://www.mybodyworksnatick.com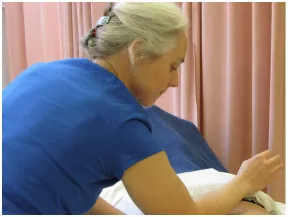 Combining...
Classic Swedish - flowing, slow, deliberate dance-like moves to encourage the relaxation response
Deep tissue - pauses with focused, deep attention to areas of tension
Movement - careful assisted stretching and moving, active engagement of muscle tissue to enhance the therapeutic value and increase range of motion
Reiki energy (if requested) - universal energy for a balanced body, mind and spirit

Would you like to be able to move in the way your body was meant to move, without pain?
Without drugs or surgery?
Rossiter Workouts can get rid of pain whether it's in your:
feet
ankles
knees
hips
low back
shoulders
hands
wrists
elbows
neck
It can also help with headaches and cramps.
Rossiter works by stretching and loosening connective tissue in our bodies and creating space for free and easy movement.
About Ellie Calhoun, LMT
Ellie is a licensed Massage Therapist and certified Rossiter System Personal Coach in Natick, MA. She is dedicated to helping people achieve a pain free body so they can live life fully, gracefully and joyfully!
Offering both Therapeutic Massage techniques and Rossiter stretching workouts, Ellie works with her clients to determine the best plan for each individual to reach their goal.
Therapeutic Massage by Ellie is a blend of knowledge, experience, attention, intuition, respect and confident, peaceful hands.
The Rossiter System is about getting rid of pain. It is not massage. It is a powerful stretching workout done with two people.
Ellie approaches each Rossiter workout with caring and thoughtful attention.
---
Research-Based Hypnotherapist
Lose Weight ... Quit Smoking ... Stop Panic Attacks ... Manage Stress... Sleep ... Learn to Relax... ... Regain Control of Your Life
CALL 1-508-742-8268 TODAY FOR A FREE, NO OBLIGATION CONSULTATION
What is hypnosis?
Hypnosis is a process of gentle focused attention, relaxation, and guided imagery, much like what occurs naturally when we daydream. While in the state of hypnosis, the subconscious mind becomes open to imagining changes in behavior that support the goals that a client has identified while conscious. This process of aligning subconscious and conscious thinking patterns can lead to rapid and lasting changes in self-esteem and behavior. The reduction in stress can also result in other positive changes in the body's immune system and ability to heal rapidly.
How does hypnosis work?
It starts with a free, no-obligation consultation to see if hypnosis is right for you. You complete a confidential form to identify what you want to change, like eating habits, smoking or an irrational fear that has been holding you back. Feel free to answer only those questions that seem relevant to you.
Because hypnosis uses the power of your imagination and guided imagery, you'll be asked to identify places that tend to relax you, like walking along a beach, if you enjoy that. During your consultation, you'll learn how hypnosis works, and you can ask any questions you might have. You will not be hypnotized in this session, but we might play a few simple imaginary exercises to see how you respond.
Hypnosis can work for nearly anyone, but if you are not a good candidate, we will discuss that honestly. If it looks like you are interested, we will talk about a recommended program.
The unconscious mind is 90% of your thinking. Use the rest of your mind for a change.
About Mary Heath, CH
Mary Heath is a Certified Hypnotherapist with 9 years of experience in hypnosis , holding multiple certifications in hypnosis and Neuro-Linguistic Programming (NLP). She is a member of the National Guild of Hypnotists (NGH) and subscribes to their Code of Ethics, and their annual continuing education program. Prior to opening Focus Hypnosis in the Metrowest Boston area, she directed a Positive Changes Hypnosis Center with a staff of 11. She is a former medical social worker and former Director of Medical Social Services at Crittendon County Hospital in West Memphis, Arkansas.